Crispy Chicken Tenders and Steamed Asparagus.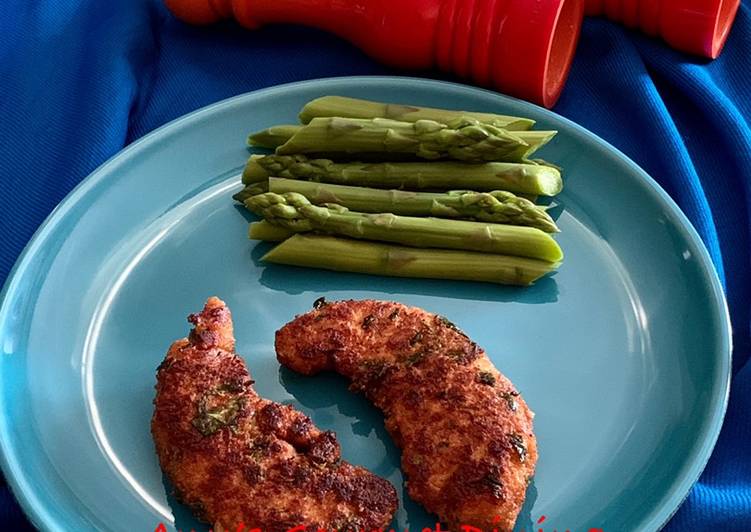 You can have Crispy Chicken Tenders and Steamed Asparagus using 12 ingredients and 11 steps. Here is how you cook it.
Ingredients of Crispy Chicken Tenders and Steamed Asparagus
You need 4 of Chicken breasts (Boneless).
It's 1/2 Cup of All purpose flour.
It's 1/2 Cup of Cornstarch.
Prepare 1 handful of Cilantro (Chopped finely).
It's 2 Tsp of Garlic powder.
Prepare 2 Tsp of Onion powder.
You need 2 Tsp of Red chilli powder (Divided).
You need 3/4 of Breadcrumbs.
You need 2 of Eggs (Beaten).
It's 3-4 Tbsp of Cooking oil (I used Canola Oil).
You need 1 Tbsp of Butter.
Prepare 1 Bunch of Asparagus.
Crispy Chicken Tenders and Steamed Asparagus instructions
Wash the chicken breasts thoroughly in a colander under running water. Shake off the excess water..
Butterfly the chicken breasts. (Cut open the chicken breasts) with the help of a sharp knife. Further, cut them into halves. Now, you have 4 thin strips from each chicken breast..
Note: Butterflying is a really useful technique to create a uniform thickness throughout a piece of meat, so that it will cook more quickly and evenly..
Combine the all purpose flour, cornstarch, 1 Teaspoon salt, 1 teaspoon red chilli powder, onion powder & garlic powder in a large plate..
Beat the eggs in a medium mixing bowl. Place the bread crumbs in a dinner plate. Add 1 teaspoon red chilli powder, 1 teaspoon salt & the cilantro..
Dredge all the chicken breasts in the flour mixture at once. Dip them one by one in the beaten egg. Roll in the breadcrumbs to coat well..
Heat oil in a large nonstick pan. Medium-high heat. Cook the chicken breasts 5 minutes per side until golden & crisp. Flip a few times. When almost done, add the butter in the middle of the pan. Lift the pan & do a swirling motion to spread the melted butter all over the pan. The butter at the end takes it to a few notches up. Total bliss!.
Serve immediately with steamed veggies of your choice. Asparagus, broccoli, beans, baby carrots, peas are some suggestions..
To steam the Asparagus: Cut off about an inch of the hard stem & discard. Cut into two or into small, bite size pieces, if you wish to. Wash thoroughly. Heat water in a medium skillet/pan. When the water comes to a rolling boil, turn the heat off..
Drop the asparagus in the hot water. Cover & leave for 5-6 minutes. I love it crunchy..
Drain the water. Serve hot with a sprinkle of salt & freshly milled pepper. Enjoy!.
Related Post "How to Make Perfect Crispy Chicken Tenders and Steamed Asparagus"