Creamy Chicken Apple Salad. Recipe Credit: Jen Bucko and Lara Hamilton. This salad is a low-carb, power-food dynamo. Easy to prepare and packed full of good nutrition—protein from chicken, fiber from the apple, and healthy fat from the walnuts—this is a quick.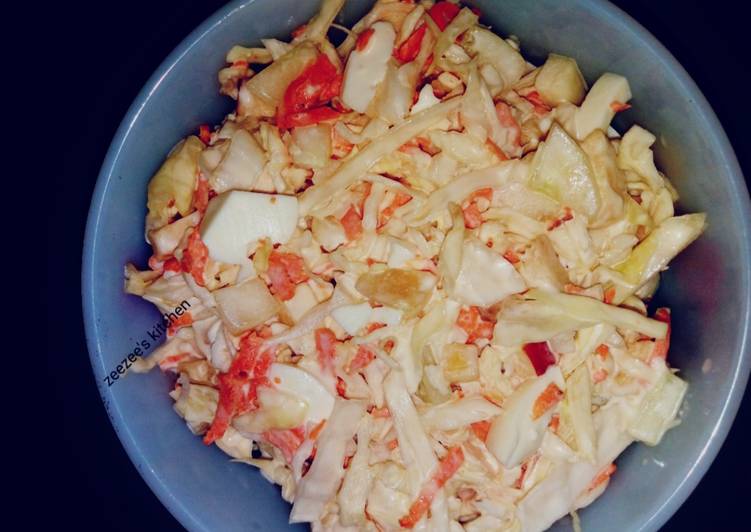 Add in salad cream, lemon juice, salt, black pepper,. Chicken Apple Salad, Quick and Easy Chicken Apple Salad, Almond Chicken Pasta Salad, etc. Jump to the Creamy Apple Salad with Celery and Fennel or read on to see how we make it. You can have Creamy Chicken Apple Salad using 9 ingredients and 4 steps. Here is how you cook that.
Ingredients of Creamy Chicken Apple Salad
You need of Diced Apple.
Prepare of cabbage.
You need of lemon juice.
It's of black pepper.
You need of grated carrot.
You need of macaroni.
It's of chicken.
You need of parsley or celery (optional).
It's of salad cream or mayonnaise.
We've also used it as a base for baked chicken breast, these juicy pork chops, and have even kept the whole meal vegetarian and piled a mixture of roasted vegetables or roasted squash on top. I needed a butternut apple chicken salad! I actually LOVE chicken salads when they're spruced up with tons of goodies, but often feel too lazy to Roasted butternut squash, apples, perfectly cooked chicken and greens topped with crunchy toasted pecans and a creamy dairy free maple cider dressing. Chicken salad is a favorite treat in my household.
Creamy Chicken Apple Salad instructions
In a large bowl, add together shredded chicken, diced apple, carrot, macaroni, cabbage.
Add in salad cream, lemon juice,salt, black pepper,.
Stir until well combined.
Enjoy.
Even though it's a simple recipe with easy-to-find ingredients, there's still something fancy about it. This recipe has been in my family for quite some time. The only real change I've made is to substitute plain yogurt for. Chicken Satay: Tender marinated chicken satay bursting with flavor, and a peanut dipping sauce. This is a low carb or keto friendly meal option.
Related Post "Recipe: Appetizing Creamy Chicken Apple Salad"