Hearty Chicken and Potato Curry.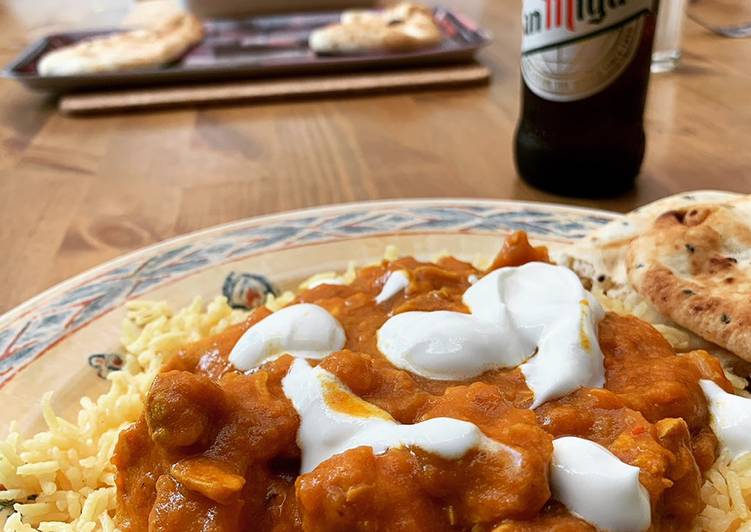 You can have Hearty Chicken and Potato Curry using 22 ingredients and 7 steps. Here is how you cook that.
Ingredients of Hearty Chicken and Potato Curry
You need 5 of large chicken breasts, diced.
It's 1.25 Kg of Maris piper potatoes, chopped.
Prepare 2 of Large knobs of butter.
It's 2 tbsp of olive oil.
You need 1 of large onion, finely diced.
You need 3-4 of garlic cloves, chopped.
You need 3 tbsp of fresh grated ginger.
You need 2 tbsp of turmeric.
Prepare 2 tbsp of hot chilli powder.
Prepare 2 tbsp of hot paprika.
You need 1/2 tbsp of ground cumin.
Prepare 1 Kg of passata.
You need 800 ml of coconut milk.
You need of Small cup of water.
It's 3 of red chillies.
You need 1 of lime, juiced.
It's of Small bunch of coriander, roughly chopped.
Prepare 3 tbsp of Greek yoghurt.
Prepare of To serve.
You need of Basmati rice.
Prepare of Naan bread (optional).
It's of Greek yoghurt (optional, but encouraged).
Hearty Chicken and Potato Curry step by step
Start by adding the butter and oil together in a large saucepan, and stir until sizzling.
Add the onion, garlic, ginger and a pinch of salt, and stir on a medium-low heat, until the onions are soft and brown. Top tip: Freeze your ginger, and grate it while it's frozen. This makes it easier to grate – as when it isn't frozen it's all stringy..
Once the onions are brown, add the paprika, chilli powder, turmeric and cumin. Stir until it becomes a thick, almost paste like texture, then add a little drop of the water to de-glaze the pan. Stir until everything has become unstuck from the bottom of the saucepan..
Add the chicken, and bring the heat to a medium-high, and cook until the meat is white all over..
Add the potatoes then stir. Add the passata, coconut milk and chilli, then leave to simmer for around 45 mins, stirring occasionally, until the potatoes are soft..
Add the lime and coriander, and stir. Once it's finished, add the yoghurt to give the sauce a creamier texture..
Serve with fluffy basmati rice and Greek yoghurt..
Related Post "Recipe: Yummy Hearty Chicken and Potato Curry"