Sig's Duck Egg and Sheep Cheese Omelette.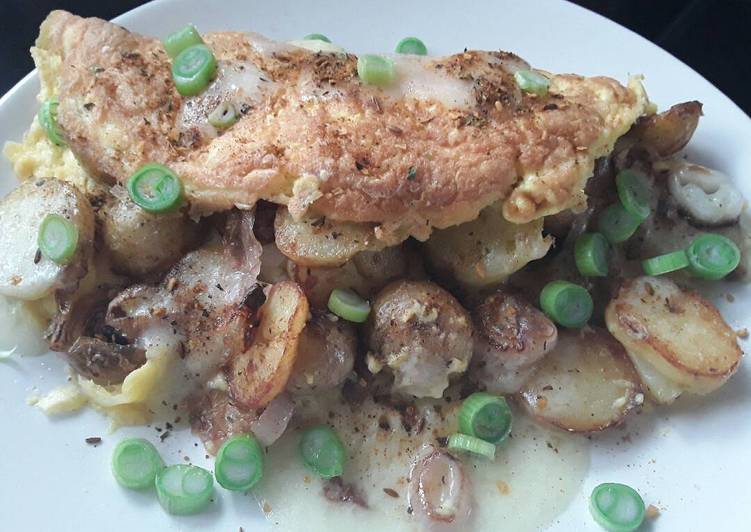 You can cook Sig's Duck Egg and Sheep Cheese Omelette using 8 ingredients and 5 steps. Here is how you cook that.
Ingredients of Sig's Duck Egg and Sheep Cheese Omelette
You need 2-3 of medium duck eggs.
You need 2-3 tablespoons of water.
You need 1 pinch of salt.
It's 75-100 grams of creamy, mild sheep's cheese. I use Inglewite.
Prepare 2 of small shallots.
You need 1 tablespoon of oil.
You need 1 of good pinch of spice seasoning to taste.
You need 1 of green scallion (spring onion).
Sig's Duck Egg and Sheep Cheese Omelette instructions
Whisk 2 or 3 medium sized duck eggs, add a tablespoon of water for each egg used. Season slightly with salt..
Grate the mild Cheddar type sheep cheese to taste. I used Inglewhite Sheep,it has a lovely mild and creamy flavour. Add some of this to the whisked eggs.
In the meantime sauté 2 small shallots, add left over potatoes, I use small salad like potatoes in a frying pan. I season the potatoes and onion with Moroccan spices, but you can use whatever you wish..
When the potatoes and onions are done, make an omelette with your mixture. You need to add a little fat to a flat or omelette pan. Heat the fat, gently pour in the egg mixture. Keep running a fork through the omelette making sure it stays together as one, but becomes fluffy. Do this until the top is just shiny. The egg will carry on cooking. Remove with the cooked side down from pan onto a serving plate. Add the potato and onion mix on half of the omelette.
Fold the other half gently over, sprinkle with chopped spring onions (scallions) and more cheese. If you like you can put the omelettes into the microwave and heat through for 1 minute.
Related Post "How to Make Yummy Sig's Duck Egg and Sheep Cheese Omelette"