Chickpea, squash and green bean curry – vegan. Add the water, green beans, and salt to taste. I read a couple of books, Eat. Watch this video, to learn how to make this delicious,authentic Chickpea&Beans Curry.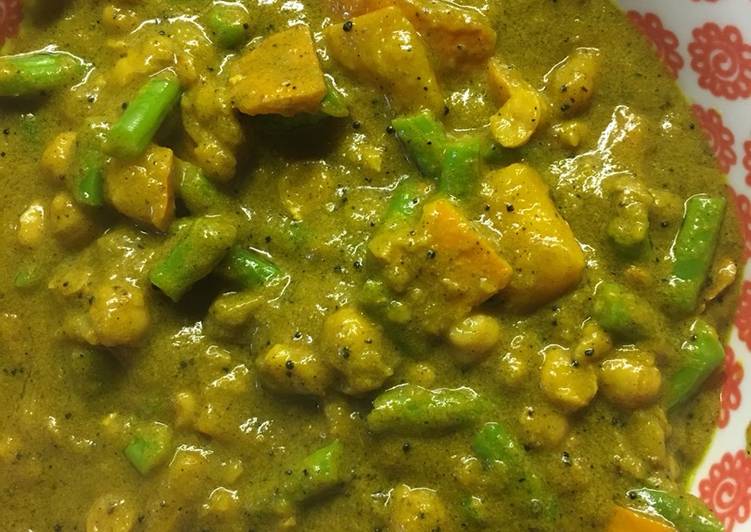 This delicious vegan chickpea curry is creamy and perfectly spiced. How to make vegan chickpea curry. Add some olive oil to a pot along with some chopped onions, crushed garlic, garam masala (or curry powder), cumin, coriander powder, turmeric and cayenne pepper and sauté until the onions are. You can cook Chickpea, squash and green bean curry – vegan using 11 ingredients and 7 steps. Here is how you achieve that.
Ingredients of Chickpea, squash and green bean curry – vegan
Prepare 1 tbsp of coconut oil.
You need 1 tsp of mustard seeds.
You need 1 tsp of ground cumin.
You need 1 tsp of Garam masala.
Prepare 1 tsp of turmeric.
Prepare 1 tsp of ginger powder.
Prepare 1/2 of Onion Squash (also known as Hokkaido), cut into 2-3cm cubes – Butternut or Kabocha are also nice (and you don't need to peel the squash 🎉).
Prepare 200 g of / 1/2 can chickpeas, drained and rinsed.
It's 200 g of / 1/2 can coconut milk, light or full-fat.
Prepare 1 cup of vegan stock (it's about 1tsp of powder for 1 cup) – if you're not vegan, you can use veggie stock instead of course.
Prepare 100-150 g of Green beans – peas or sugarsnaps or spinach or chard are nice too.
This Southern Indian chickpea curry, created by reader Jon Gregg, is a vegan recipe that's three of your A traditional Sri Lankan vegan curry that makes the perfect accompaniment to hoppers and a variety of An easy vegan curry with tender sweet squash, coconut milk, garam masala, turmeric. Our awesome vegan take on the insanely popular dish. Ridiculously tasty and nutritious – just look at all that protein, fibre and iron. Will become a favourite after work dinner.
Chickpea, squash and green bean curry – vegan instructions
In a large pan, heat the oil. Add the mustard seeds. And fry til they pop..
Add the cumin, garam masala, turmeric and ginger. Heat for a few minutes..
Add the squash and chickpeas..
Add the coconut milk and vegan broth..
Bring to a boil and then cover and simmer for about 30 minutes until the squash has softened and the sauce has thickened..
Add the beans and stir through; they will take 5-10 mins. If the mix is getting a bit dry, add some water..
Serve with rice or chapatti. Enjoy!.
Butternut squash curry that's creamy and fragrant with spinach, chickpeas, coconut milk and red curry paste. Secret ingredient in the recipe makes the sauce extra creamy every time! Strong and vibrant flavors of lemongrass, ginger and tamarind really bring this Thai flavored dish to life. This vegan chickpea curry is not only super delicious but also pretty healthy. Chickpeas are sometimes also called garbanzo beans.
Related Post "Recipe: Delicious Chickpea, squash and green bean curry – vegan"