Traditional Kenyan Chicken Stew.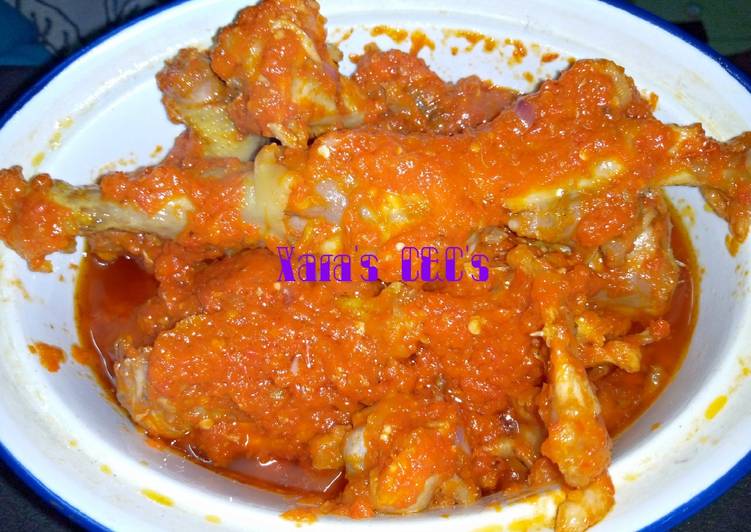 You can cook Traditional Kenyan Chicken Stew using 12 ingredients and 9 steps. Here is how you achieve that.
Ingredients of Traditional Kenyan Chicken Stew
You need 1 of whole local chicken.
You need 15 pieces of tomatoes.
You need 5 piece of red pepper.
It's 5 piece of Scotch bonnet.
Prepare 2 of small onions.
It's 1 tsp of salt.
Prepare 5 of Maggi cube seasoning.
It's 1 tsp of curry.
It's 1 of ginger.
It's 1 of glove garlic.
Prepare 1 tsp of coriander seed.
Prepare 2 of cookspoon vegetable oil.
Traditional Kenyan Chicken Stew instructions
Clean, cut local chicken into pieces.
Rinse and pound garlic with ginger. Rinse and chop onions set aside.
Put the chicken into pot, add salt, 1 Maggi, half of the pound garlic and ginger with small onion and coriander seed.
Add quantity of water, cover to boil till soft (50 minutes).
In another pot on fire, put vegetable oil, add remaining onion, garlic and ginger (if interested) stir fry a while.
Add the grounded tomato, pepper, and scotch bonnet (paste).
Add in chicken, and seasoning then stir in the chicken stock.
Cover and allow to simmer for 5 minute.
Traditional chicken stew is ready to serve.
Related Post "How to Prepare Tasty Traditional Kenyan Chicken Stew"