Sig's Nasi Goreng.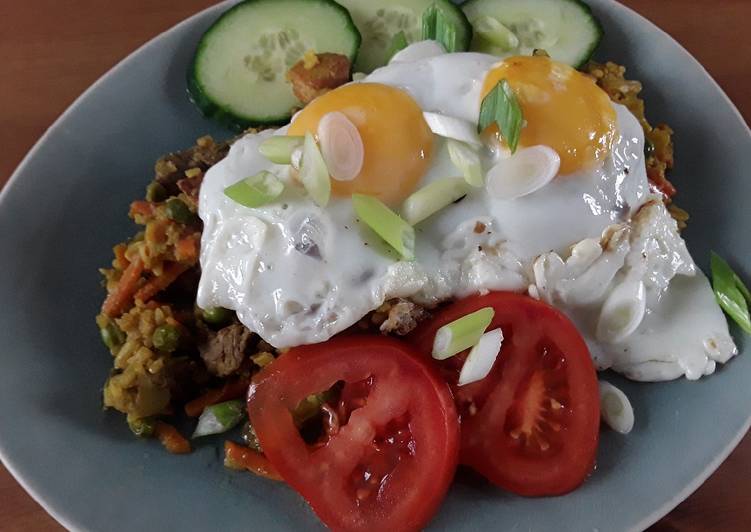 You can have Sig's Nasi Goreng using 21 ingredients and 2 steps. Here is how you achieve that.
Ingredients of Sig's Nasi Goreng
You need 1 1/2 tablespoon of vegetable oil.
Prepare 175 gr of chicken breast thinly sliced.
Prepare 175 gr of other meat thinly cut.
It's 1-2 tablespoons of kecap manis (sweet thick soy sauce).
Prepare of For the rice.
You need 3-4 cups of white rice already cooked, kept in fridge.
It's 3 cloves of smoked garlic.
Prepare 1 cup of cooked peas and julienned carrots each.
Prepare of I/2 -1 cup shredded cooked cabbage.
You need 1 of small white onion.
You need 2 of large spring onions.
You need 1 teaspoon of chopped red chilli (or less).
Prepare 2 tablespoons of kecap.
You need 11/2 tablespoon of vegetable oil.
Prepare 1 handful of cashew or peanuts.
Prepare of For garnish.
You need 4 of medium sized eggs.
You need 1 of spring onion.
Prepare 2 of tomatoes.
You need 1/2 of cucumber.
Prepare of Lemon and/or lime wedges.
Sig's Nasi Goreng step by step
Heat oil in pan, chop chilli, onion and garlic, add chilli and garlic to hot pan,stir for about 15 seconds then add the onion. Cook for about a minute to soften. Add the thinly sliced meat, when it is almost sealed add the 1-2 tablespoon kecap, stirring in and cooking until meat starting to take on colour. Add vegetables and nuts..
The cooked, cooled down rice is best kept in fridge as it makes it easier to stir fry. Add the cooked rice, the other 2 tablespoons of kecap. Cook for 2-3 minutes until sauce is reducing and rice starts to caramelise. Serve with tomato and cucumber and fried egg. This is how I remember it. Except the nasi goreng were made into fried little patties. I let the rice set a little, similar to a paella in a pan for this one..
Related Post "Recipe: Yummy Sig's Nasi Goreng"